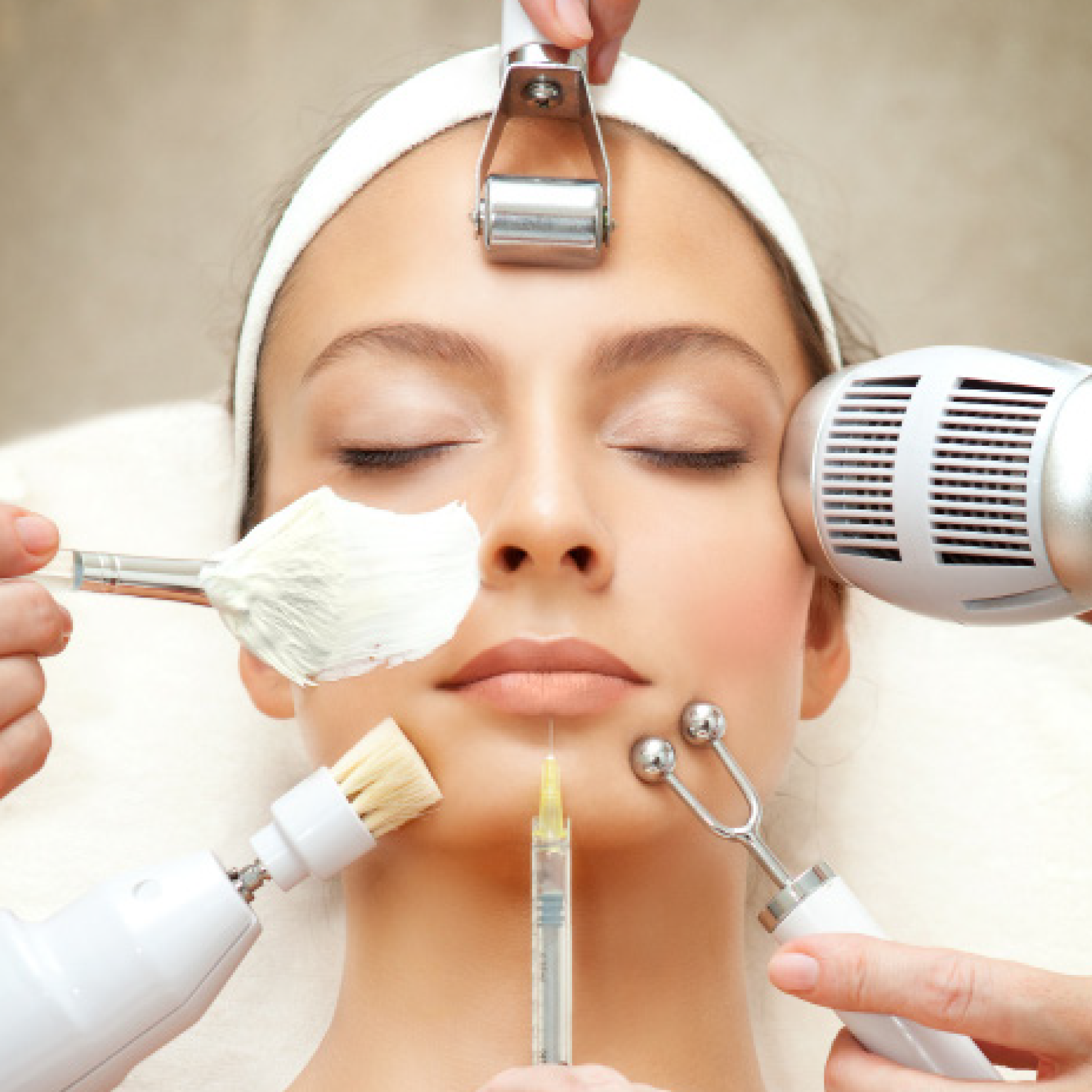 CLINICAL TREATMENTS
Progressive corrective skin treatments to treat specific skin concerns with minimum to no down time.
Dermafrac Treatment
$275
DermaFrac™ is an exciting treatment combining micro-needling and deep tissue serum infusion. It allows topical solutions to penetrate deeper into the tissue. It creates micro-channels to the DE junction, and promotes and stimulates collagen production to plump up the skin, while offering simultaneous delivery of the anti-aging infusion serum, containing powerful peptides, skin lighteners, and anti-oxidants.
Designed to improve the overall appearance of  skin, the procedure results in optimal absorption of the serum and stimulates a positive natural response in the skin, improving fine lines and texture with minimal to no downtime.
DermaFrac™ is safe and effective for many skin types and can dramatically improve the appearance of:
Oily skin and acne
Fine lines and wrinkles
Clogged and/or enlarged pores
Hyperpigmentation, sun spots and uneven skin tone
Your treatment will be tailored by selecting a customized infusion serum to target your specific condition. The treatment includes skin exfoliation & LED light therapy.
Rejuvenate
A 'super cocktail' of peptides that has the potential to stimulate collagen and fibroblast production and relax the muscles in a subtle, natural way.
Hydrate
Hyaluronic acid triggers intense hydration.
Clarify
Lactic and salicylic acids help cleanse congested, oily pores for more vibrant, clearer skin.
Lighten
Kojic acid is a natural and effective lightening agent shown to even out pigment.
Rec. x3 monthly treatments
Cosmelan
$995
Cosmelan® depigmentation treatment is the world's most effective one-off treatment in reducing the appearance of pigmented skin lesions resulting from Melasma, (hormonal pigmentation) sun damage & age spots. Effective for those who suffer from discoloration caused by excess pigment, this treatment has 'down time' so pre-planning is essential. We also offer another system without 'down time' for those who are unable to allocate the time. A consultation is necessary to determine the type of pigment and the depth.
The prior use of homecare preparation products will need to be commenced prior the clinic application.
Microderm Facial
60 MINS $150
+ ADD OXYGEN $39
Gentle silky pain-free microdermabrasion treatment (so as to not compromise the skin barrier) using the revolutionary Silhouet-tone, LED Light Treatment and finished off with a vitamin mask or oxygen treatment. Does it get any better than this?
Rec add on: LED light therapy
Corrective Skin Peels
Chirally correct and pure actives delivers maximum clinical results without unnecessary irritation or trauma. The cheat's way to a perfect, enviable complexion and flawless looking skin!
Selected and customised for each individual which can include LED Light Therapy and/or oxygen.
Clinical Express Facial Peel
$130
A unique peel with minimal downtime for recovery, suitable for most skin types. Noticeable results for a variety of skin conditions, including epidermal sun damage, mild acne, congestion, dull or lifeless skin, and dehydration.
Clinical Brightening Express
$130
Powerful skin renewal and clarifying action of clinical strength alpha and beta hydroxyl acids to lift away the accumulated layers of dull, discoloured cells, plus the remarkable skin whitening action to manage pigmentation.
Clinical Detoxifying Express
$130
Deep cleanse pores that lead to the appearance of unsightly imperfections whilst working deep to detoxify, calm and perfect the look of excessively oily, congested and blemish prone cosmetic concerns.
Clinical Benefit Vitamin C & A Treatment
$180
Benefit Plus peel is a combination of vitamin C, vitamin A, potent pomegranate antioxidants, proteins and lactic acid. This peel lightly exfoliates the skin while infusing an extremely high concentrate of antioxidants, vitamins and proteins into the skin. Helps dull/ dehydrated skin, sun damaged, aging skins. Evens out, refines skin.
Oxygen Facial Therapy
60 MINS $150
What is an Oxygen Facial Therapy and how does it work?
An Oxygen Facial Therapy is a quick treatment using a high concentrate of pressured oxygen with treatment serums that are infused onto the face. The serum is first sprayed onto your face with a pressurised wand, and feels like cool sprays of gel being applied to your face. After the initial application, an infuser is used to penetrate the serum into the skin using a high concentrate of oxygen. The oxygen combined with the serum used, is instantly absorbed by the skin and therefore visible and noticeable results can be seen directly after the treatment.
Picture-perfect and party-ready, with an instant non-surgical face lift! The Oxygen Facial Therapy is one of the most popular celebrity treatments in the world today and is fast becoming the treatment everyone uses as a 'must do' before that special occasion or as ongoing maintenance.
In as little as 15 minutes you can plump up your cheeks, define the contours of your jaw line, brighten your skin tone and instantly see fine lines reduce around your eyes and lips with no downtime at all. The cool and soothing treatment is as simple infusing oxygen combined with a professional strength serum, using different active ingredients, in order to give you an instant lift – and you can apply your makeup straight after treatment!
Whether you have an upcoming wedding, a weekend away or walking the red carpet and you have no time to waste – the Oxygen Facial Therapy is the fastest, safest and most effective way to look and feel your best instantly.
Lesion Removal
$50 PER LESION
$150 FOR 15 MIN SESSION
Skin Classic-Treatment for Unwanted Skin Lesions
The Skin Classic is a device that uses high-frequency radio waves which dehydrate the top layer of skin, and in turn removes or reduces the imperfection. The treatment is very fast and very precise as it uses just the very tip of a small probe to tap the area being treated. Each imperfection takes only a few seconds.
The Skin Classic can treat a wide variety of skin imperfections including:
Cystic Acne, blemishes, and blackheads
Skin Tags
Cherry Angiomas
Sebaceous Hyperplasia
Fibromas
Broken Capillaries (Telangiectasia)
Milia